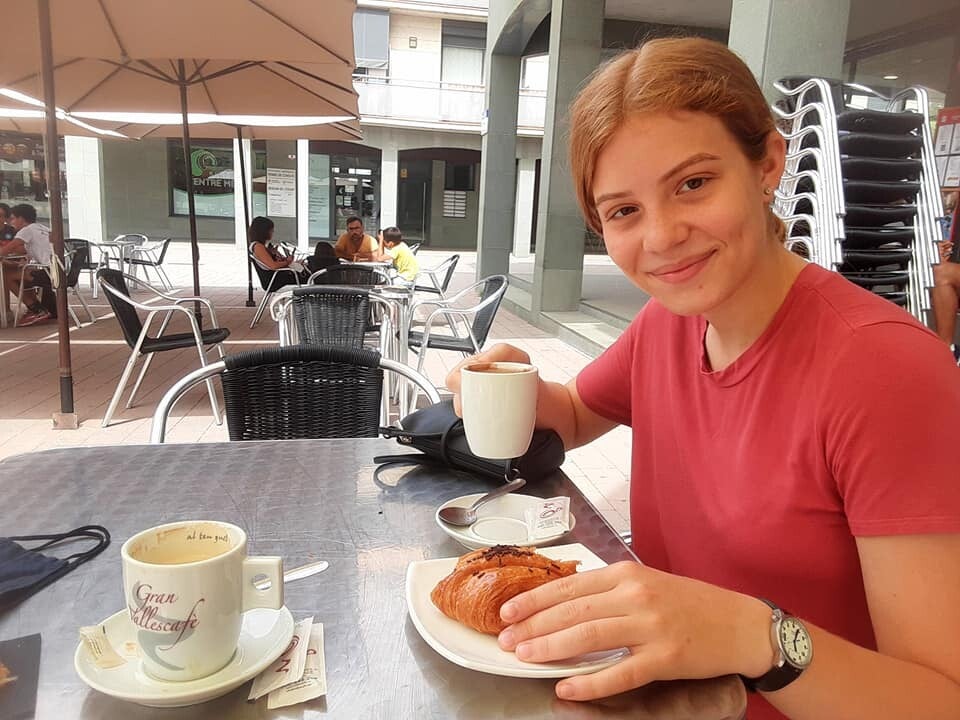 In Spain family is everything! Families are large, extended, and heavily involved in one another's lives. I love my warm, loving sister-in-law and all of her hospitable, loud, incomprehensible (they don't speak English) relatives. Every time I have visited Spain, they have enveloped me in their lives without reservation and made me feel as if I were part of La Familia.
After our whirlwind tour of Barcelona, we headed to my brother's home in Milpins - our base for the next week as we explored Catalonia country. Catalonia has played an important role in the history of the Iberian Peninsula as the center of a separatist movement which has often dominated Spanish affairs. It is a small (by American standards) triangular area in the northeastern corner of Spain, bordered by France on one side and the Mediterranean Sea on the other. Barcelona is its capital, and it has its own unique language and culture.
We spent our first day strolling to the village center to enjoy a chocolate croissant and cafe con leche. Later in the day we headed to Sandra's parents' home for lunch. They made us the most amazing paella de carne. Unlike regular paella (which is made with seafood), this dish is made with quail, pigeon, and franklin, all of which are hunted locally.
I highly recommend taking moments like these during your trip to simply rest, rejuvenate, and immerse yourself in the culture. Another thing I recommend is hiring your own car. Many of the incredible places we visited were inaccessible to busses and wouldn't appear on a regular tour itinerary.
This includes one of my favorites, Santuari de Montgrony near Gombren, Gerona.
Getting there means traversing a narrow, winding mountain road, but it is well worth the effort. This amazing chapel is literally carved into the hillside and has breathtaking views of the surrounding countryside. If you have the time you can hike from the chapel through the Puig de Sant Pere mountains on a 3 mile, moderately challenging loop trail, which takes just under two hours to complete.
The day Rachael and I visited there was a persistent drizzle and freezing wind on the mountain. Since it was a family trip and we had Gareth and Sandra's two little boys with us, we skipped the hike, and after exploring the chapel, escaped into the cozy restaurant to enjoy a delicious meal and a glass (or three) of Tinto de Verano.
The whole village makes a pilgrimage here once a year, but both times we visited, we had the place to ourselves. The combination of the ancient peaceful serenity of the chapel, the awe-inspiring views, abundant wildflowers and wildlife (we saw deer and a fox), and gentle peal of cattle bells makes this spot feel like a little piece of heaven on earth. It was definitely the Spiritual highlight of our trip, far more so than a visit to any of the much grander cathedrals.